Recent Events

1.In July 2000 we hosted 21 Bulgarian children from Blagoevgrad and Petrich (Bulgaria), aged 10 to15,by providing free transportation and full accomodation at the sea-camping site located at Pteleos,Volos.We are thankful to the Mayors of Kilkis,Pikrolimni and Herso for their manifold and whole-hearted support accordingly.

2.Our LADY MEMBERS ONLY! continue to show-up on our premises at 11.00 in the morning on the 2nd and 4th Sunday
every month for that extra-bit of chat over a steaming coffee-mug.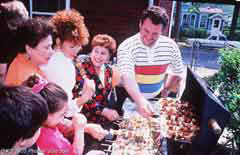 3. Our Society hosted a fine painting exhibition of 5 Bulgarian artists from the respected Blagoevgrad School.
The venue was Alatza Imanet, Thessaloniki, and it lasted from 10 November to 15 December 2000.

3.In July 2002 we offered free two-week vacations to 30 orphan children from Gotse Delchev, Bulgaria at a sea-side camp at Pteleos, Magnisia, Greece.
We would not have managed to to that without the finacial support of the Municipality of Kilkis and Thessaloniki, and the personal involvement of Thessaloniki's Meir Mr Vasilis Papageorgopoulos, to whom our most cordial thanks is extended.
Upcoming Events

THIS COLUMN WILL BE UPDATED VERY SHORTLY WITH BREATH-TAKING NEWS.PLEASE CHECK REGULARLY!!!